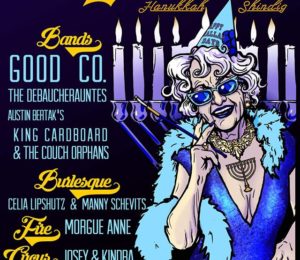 Saturday, December 08
7:00pm to 11:59pm
Hillel UW
4745 17th Ave NE
Seattle WA 98105
It's BACK!
7th Annual Bubbe's Old-Fashioned Hanukkah Shindig
Proudly presented by The Debaucherauntes with support from Jconnect Seattle, TDHS - The Tribe.& Velocity Dance Center.
7p doors
8p menorah lighting kickoff
$25 DoS, $20 adv **VOLUNTEER SPOTS AVAILABLE**
21+
FEATURING:
LIVE MUSIC
Good Co electroswing
The Debaucherauntes cabaret punk klezmer fusion
Austin Bertak's King Cardboard & The Couch Orphans (manouche & klezmer)
BURLESQUE
Manny Schevitz
Celia Lipshutz
CIRCUS (Acro)
Josie & Kindra
HANUKKIAH LIGHTING BY
Morgue Anne
Seattle's longest running annual local live music & performance art, offbeat throwback Hanukkah celebration is BACK!
This slice of nouveau Yiddish Vaudevillie culture features an all star cast of Seattle's best Jewish musicians & performance artists with airs of a bygone era, and is made for reveling, singing, and dancing away the 7th night of Hanukkah. Enjoy a mix of manouche & klezmer, electroswing, and a klezmer fusion to keep you moving; fier mit fayer blazing burlesque, dance, and circus interstitals to keep your flame burning all night; and zudik heyse latkes from our latke cart by Dante's for your geshmakt neshome.
Call your tayeres, tell your Bubbe and your crush, and get ready for the best night of Hanukkah!.
NOTE:
**this show will contain Burlesque**, which is defined as the art of the tease -- a dance or theatrical act involving storytelling through removal of clothing items down to legal limits (nipples & pubic region covered per City of Seattle.) If you're not sure if burlesque is right for you, please look up Jewish burlesque and plan accordingly! Burlesque acts will be announced.
ACCESSIBILITY INFO
tba