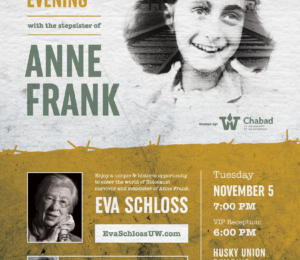 Tuesday, November 05
7:00pm to 9:00pm
Husky Union Building (HUB Ballroom)
4001 E. Stevens Way
Seattle WA 98105
This event is sold out.
~~~~~~~~~~~~~~~~~~~~~~~~~~~~~~~~~~~~~~~~~~~~~
Survivors of the Holocaust will all soon be gone... but will their stories of tolerance, diversity, and triumph live on?
Hillel UW is proud to be a co-sponsor of this historic event hosted by Chabad UW: An opportunity for the UW community to hear the story of noted speaker and author, Eva Schloss, a Holocaust survivor and stepsister of Anne Frank.
Eva will be joined on stage by University of Washington President, Ana Mari Cauce, who will lead the conversation.
A young 90-year-old woman, Eva Schloss will be traveling here from London to give the crowd a real face-to-face encounter with someone who represents courage in the face of all odds, fortitude, positivity and so many more values that are priceless in today's society.
This event marks a once-in-a-lifetime opportunity for students, staff, faculty and community members to hear firsthand from a Holocaust survivor.
Doors open at 6:30 pm, VIP event is at 6:00 pm  Tickets are available now!