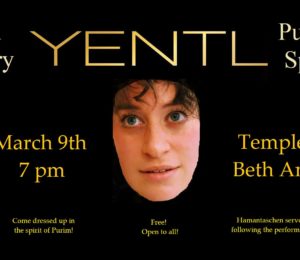 Monday, March 09
7:00pm to 9:00pm
Temple Beth Am
2632 NE 80th St.
Seattle WA 98115
This event is cancelled.
Celebrate Purim in musical style!
Billed as a musical conversation about identity and masks, this evening is sure to be thought-provoking and entertaining. One part story, one part learning, and one part singing, the cast of characters is guaranteed to provide you with a memorable evening. Join us for an evening of storytelling, learning, music, and of course, hamantaschen! Please dress up in the spirit of Purim, and there will be a Megillah reading beginning at 6:30. This event is free and open to all.
"A Very Yentl Purim Spiel" was written by the Jewish Federation of Greater Seattle's Advanced Leadership Development Program's James K. O'Connell and is being produced in partnership with Temple Beth Am.