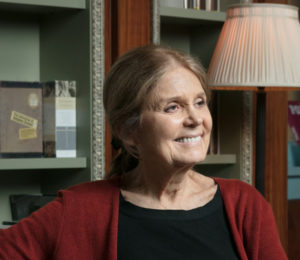 Thursday, November 21
7:00pm to 9:00pm
911 Pine St
Seattle WA 98101
Jconnect is going to see Gloria Steinem in conversation "The Truth Will Set You Free, But First It Will Piss You Off!" at The Paramount! We have a limited number of subsidized tickets, so fill out the form and join us!
~~~~~~~~~~~~~~~~~~~~~~~~~~~~~~~~~~~~~~~~~~~~~~~~~~~~~~~~~~~~~~~~~~~~
STG Presents and Hedgebrook and Elliott Bay Book Company welcome Gloria Steinem to The Paramount Theatre on Thursday, November 21, 2019.
For decades—and especially now, in these times of crisis—people around the world have found guidance, humor, and unity in Gloria Steinem's gift for creating quotes that offer hope and inspire action. From her early days as a journalist and feminist activist, Steinem's words have helped generations to empower themselves and work together. Covering topics from relationships ("Many are looking for the right person. Too few are trying to be the right person.") to the patriarchy ("Men are liked better when they win. Women are liked better when they lose. This is how the patriarchy is enforced every day.") and activism ("Revolutions, like trees, grow from the bottom up."), this is the definitive collection of Steinem's words on what matters most. Steinem sees quotes as "the poetry of everyday life," so she also has included a few favorites from friends, including bell hooks, Flo Kennedy, and Michelle Obama, in this book that will make you want to laugh, march, and create some quotes of your own. In fact, at the end of the book, there's a special space for readers to add their own quotes and others they've found inspiring.
Gloria Steinem is a writer, lecturer, editor, and feminist activist. In 1972, she co-founded Ms. magazine, and she remained one of its editors for fifteen years. In 1968, she helped found New York magazine, where she was a political columnist and wrote feature articles. Her books include the bestsellers Revolution from Within, Outrageous Acts and Everyday Rebellions, Moving Beyond Words, Marilyn: Norma Jeane, and As if Women Matter (published in India). In 2013, she received the Presidential Medal of Freedom from President Barack Obama.