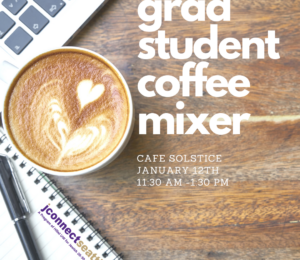 Wednesday, January 12
11:30am to 1:30pm
Cafe Solstice
4116 University Way NE
Seattle WA 98105
Grad students - are you finally getting settled in? The first week of the quarter is done! How was it? How are classes? Do you need to vent, or just want to make a new friend? Join Jconnect at Café Solstice to hang out with other Jewish graduate students.
Feel free to drop in and hang out for as long as you like, or just grab coffee and say hi. Snacks are on Jconnect!
We will be on the back patio when you arrive at Café Solstice. See you there!