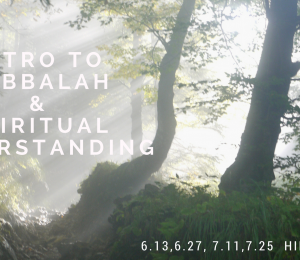 Wednesday, July 25
7:00pm to 8:30pm
Hillel UW
4745 17th Ave NE
Seattle WA 98105
Join us as we delve into the understandings and workings of Jewish Mysticism. Judaism holds many deeper understandings of life in the teachings of the Kabbalah, and we will take a look at what can be gained from it.
This series of classes will be led by Emily Katcher, a wonderful teacher and Student Rabbi. Emily teaches at Congregation Kol Shalom. Student Rabbi Emily Katcher has been teaching and praying and singing and song leading in the Puget Sound area since 2003. Before that she was, at various times, in bands, was a vet tech, a barista before they were called baristas, and sold jewelry on Telegraph Avenue in Berkeley. She currently studies at AJRCA, a trans-denominational seminary in Los Angeles. Emily holds a B.A. in Near Eastern Religion from Cal State Long Beach, where she studied Dead Sea Scrolls with Robert Eisenman, and has studied Jewish music at Hebrew Union College.
This is our last class.
This course is open for all! You can choose to attend one of the classes or all of them. There is an $8 fee per class, but if you cannot afford to pay please let us know and we will work with you.
PS: wine and cheese will be served.