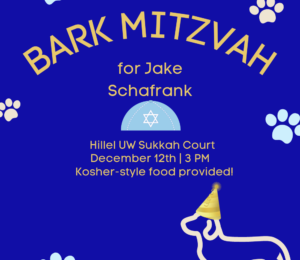 Sunday, December 12
3:00pm to 5:00pm
Hillel UW
4745 17th Ave NE
Seattle WA 98105
Contact: Hannah Woodworth/Samantha Schafrank
Join us for a celebration of the bark mitzvah of Jake Schafrank! Wear your tackiest aunt/uncle/older relative-at-a-b'nei-mitzvah outfit and come party with Samantha, Hannah, and Jconnect.
Kosher-style food & drinks will be provided. Everyone attending will be asked to show ID with proof of vaccination or a negative COVID test taken within the past 72 hours. Masks are required inside the building unless you are actively eating or drinking. Thank you for your understanding and help to keep our community safe and healthy.
RSVPs requested by December 10th for food planning purposes - please use the form below! Animals (excluding service animals) are unfortunately not allowed.