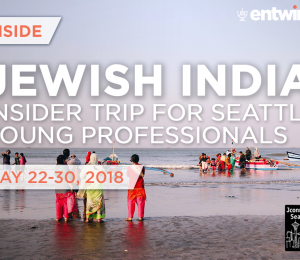 Tuesday, May 22 to Wednesday, May 30
12:00am to 12:00am
All spots for this trip are filled.
Inside Jewish India, in partnership with connect, is a one-of-a-kind opportunity for young professionals from the Seattle area to experience the magical and vibrant Jewish community of Mumbai. Participants will experience the complexity of Indian society today and connect with members of the small, but mighty local Jewish community.
Participation Fee: $1,500 (Please note this is a highly subsidized trip)
This includes:
-Round-trip airfare from Seattle
-Local transportation within India
-Meals
Hotel accommodations (note: the participation fee covers accommodations in double rooms; participants may elect to stay in a single room for an additional fee)
-Site visits, briefings, tours, etc.
-Medical and emergency evacuation insurance
Itinerary Highlights:
-Experience the diverse Indian Jewish communities of the Cochin, Mumbai and Konkan regions -- including the isolated Bene Israel.
-Learn about JDC's welfare assistance programs through home visits in Mumbai and to the Bayiti Old Age Home
-Learn about JDC's international development work with partner organization, Gabriel Project Mumbai
-Learn about traditional Indian culture through a henna ceremony, yoga, kalippriyu, Bollywood dance, and vegetarian feasts
-Visit Mumbai's famous attractions including the Gate of India, Banganga Tank, the Hanging Gardens, and more!