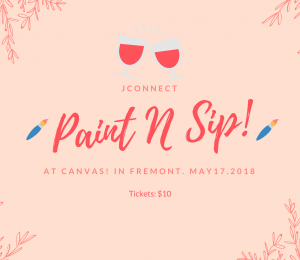 Thursday, May 17
6:30pm to 8:30pm
CANVAS! Paint & Sip Studio
3418 Fremont Ave N
Seattle WA 98103
Jconnect's Happy Hour is a monthly community meetup! Whether you are new to Seattle, or looking to reconnect with the Jconnect community- please come hang out!
This month we are going to explore our artistic side and try out a Paint N Sip event! We will be going to CANVAS! Paint Studio in Fremont to get our art and sip on! We will meet at CANVAS! at 6:30!
We have 12 spaces reserved, and discounted tickets are only $10. Please Sign up below!
Update: We are sold out!