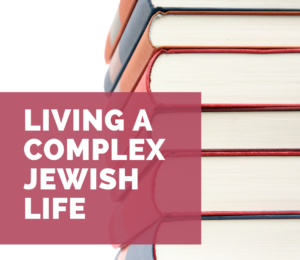 Tuesday, February 12
6:30pm to 8:40pm
Hillel UW
4745 17th Ave NE
Seattle WA 98105
Choosing how one wants to live Jewishly can be a daunting subject. Furthermore, it can be tricky figuring out where to go to ask questions that are a bit above the Judaism 101 level, but still feels like an accessible level to ask questions when you aren't sure of the answers.
This 10 session series will take a Judaism 201 approach, digging deeper than just the basics of Judaism while still being accessible for learners at multiple levels. It will explore topics from how Judaism looks around the world, how to approach studying texts Jewishly, deepening understanding of the prayer service, how to host your own seder, and so much more.
This course also offers an opportunity to become an adult B'nai Mitzvah with a small community - however this portion is optional. It will include lessons on how to read Torah Trope and even deeper opportunities to read and study Jewish texts and prayers.
You should take part in this course if:
You know the basics of Judaism but want to grow your knowledge with a small group.
Are Jewish (or are a Jew by choice) and haven't had a B'nai Mitzvah
Are a Jew by choice and want more conversations around how to integrate Judaism meaningfully in your life.
Are considering becoming Jewish.
Are the partner of someone Jewish and have some background knowledge on Judaism but want to learn more.
If you think it sounds interesting.
Sessions will look like:
6:30 - 7:30pm
Judaism 201
Content:
History of Topic
Evolution of Topic
How I choose to embrace topic
7:30 - 7:40pm
BREAK
7:40 - 8:40pm
B'nai Mitzvah
Trope, Hebrew, Prayer, Text Study
Scheduled dates of course:
Tuesday Jan 22nd
Tuesday Feb 12th
Tuesday March 5th
Tuesday March 12th
Tuesday March 19th
Tuesday April 9th
Tuesday April 16th
Tuesday April 30th
Tuesday May 7th
Tuesday May 28th
Course Costs: $25-$75 sliding scale to be discussed at first class (reach out to Rabbi Dana at rabbidana@hilleluw.org if cost is a barrier).
Contact Rabbi Dana with any questions you may have about the course at:  rabbidana@hilleluw.org