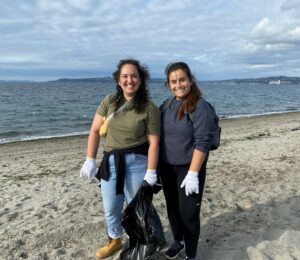 Sunday, September 10
3:00pm to 5:00pm
Join Jconnect for a lake cleanup "reverse tashlich." On Rosh Hashanah, Jews around the world participate in the ancient ritual of Tashlich. We go to a body of water and symbolically cast off the sins of the past year by throwing breadcrumbs into the water.
Every year, approximately six million tons of human-made trash also enter the water, posing health and safety hazards to the animals that call the sea their home. Marine debris is a blatant violation of the fundamental Jewish ethical principle Bal Tashchit, literally "do not destroy," a rabbinic prohibition on senseless waste or wanton destruction. Many modern Jewish groups now organize a local beach/waterway clean-up on the Sunday between Rosh Hashanah and Yom Kippur, known as Reverse Tashlich. This year, Jconnect will be cleaning up Green Lake!
Information about our meeting place will be emailed to registered participants. To register, visit https://www.repairthesea.org/rt2023, click "Join a Cleanup," and select Jconnect.