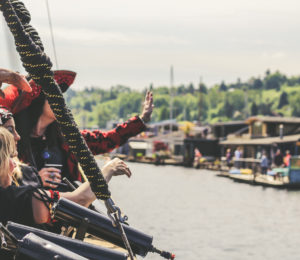 Friday, June 14
7:00pm to 9:00pm
Lake Union Park
860 Terry Ave N
Seattle WA 98109
Walk the plank with Jconnect as we venture out into Lake Union on a pirate ship for Shabbat dinner!
The boat will board AT 7 PM so please plan on getting to Lake Union Park (860 Terry Ave N, Seattle, WA 98109) beforehand with time to spare!
The attire for the evening is summer-y Shabbat-y clothes but if you have any Pirate garb you are encouraged to sport that! Food will be catered by Uwajimiya and will be vegetarian and kosher-style; california rolls, chow mein, fried rice, and a tofu dish. The boat experience is very interactive and will guide us around South Lake Union until 8:30 PM when we will de-board.
Thanks to all who have signed up and we'll see you there!
Tickets are $18!