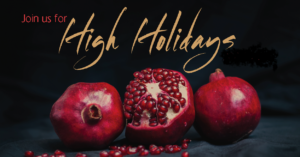 Students, young adults, parents and community members are invited to join Hillel UW for the High Holidays 2020/5781.
Rosh Hashanah Services
Friday, September 18th & Saturday, September 19th
Yom Kippur Services
Sunday, September 27th & Monday, September 28th
We will provide a full selection of both traditional egalitarian and liberal musical services live via Zoom.
Our leaders this year include:
Jason Kintzer
Chava Mirel
Carl Sayres
Amee Sherer
Rabbi Josh Weisman
We will have additional detailed information posted here in late August.
Registration will be required.