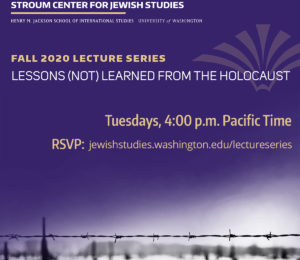 Thursday, November 19
4:00pm to 5:15pm
Contact: Stroum Center for Jewish Studies
"Fighting for Dignity: Migrant Lives at Israel's Margins" with Sarah Willen of the University of Connecticut. The 2020 Benaroya Endowed Lecture in Israel Studies will focus on the topic of global migration to Israel and the Middle East.
More about the lecture here.
You can access the entire calendar of Stroum Center virtual events here!