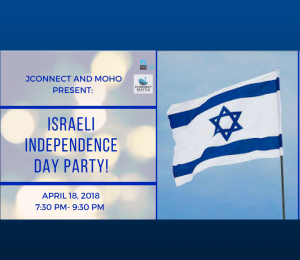 Wednesday, April 18
7:30pm to 9:30pm
Moishe House Seattle
Seattle WA 98115
Join Jconnect and Moishe House in celebration of 70 years of Israeli Independence. We will have Israeli music and dancing along with a full spread hummus and falafel bar!!!
We will start serving food around 7:30 with a short program about Yom Hazikaron after which we will go straight to the dancing.
If you do not have Moishe House Seattle's Address please message Moishe House  (Seattlemoho@gmail.com) to get their address!