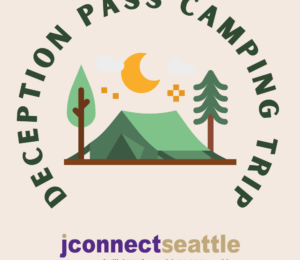 Friday, April 21 to Sunday, April 23
Deception Pass State Park
Come on a weekend camping trip with Jconnect! Plan to hike, bike, or just sit around a campfire with other 20-30something Seattle-area Jews. We'll spend two nights tent camping at a large group camp site at Deception Pass. We will have options for group activities, a potluck meal, and of course, s'mores!
The deadline to register for the trip has now passed. If you are interested in joining, please email ashley@hilleluw.org and we will see what accommodations are available. 
Campsite Information: Pets must be on a leash at all times. No amplified music is allowed. Vehicles must be parked and tents must be pitched only in designated areas. Fire is allowed only in designated fire pits/stoves and when permitted. U.S. Navy jets from nearby Naval Air Station Whidbey Island may fly over the campground at any time for several hours. Navy personnel conduct training missions at various times during the day and night. Depending on the direction of the wind, their flight pattern may put them above the park, potentially creating noisy conditions.