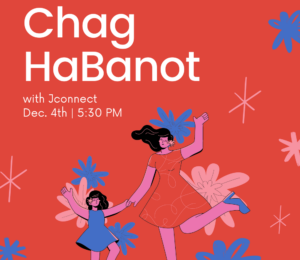 Saturday, December 04
5:30pm to 7:30pm
Hillel UW Beit Midrash
4745 17th Ave NE
Seattle WA 98105
Contact: Hillel UW + Jconnect Well Circle
Join the Hillel UW + Jconnect Well Circle to celebrate Chag HaBanot! Non-members are encouraged to join us.*
This North African Jewish holiday occurs on Rosh Hodesh Tevet, the 7th night of Hanukkah this year, and celebrates the heroism of Yehudit (Judith), who saved the Jews of Jerusalem from Antiochus by killing his general Holofernes. In celebration, women do not work, but instead visit each other and catch up, sometimes going to the synagogue to offer prayers for healing. It is also traditional for women to pass down inheritances on this holiday.
Join us to celebrate Chag HaBanot and learn more about this holiday! We'll begin with havdalah and chanukiyah (menorah) lighting, followed by learning about the holiday. We'll then have the chance to catch up and reconnect with each other over traditional holiday foods like cheese, honey cookies, and donuts.
RSVP below!
Everyone attending will be asked to show ID with proof of vaccination or a negative COVID test taken within the past 72 hours. Masks are required inside the building unless you are actively eating or drinking. Thank you for your understanding and help to keep our community safe and healthy.
*The Jconnect/Hillel UW Well Circle is open to anyone who would find meaning or enrichment from being in a space focused on women, womanhood, and femininity.