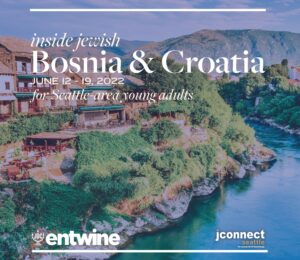 Sunday, June 12 to Sunday, June 19
Join Jconnect and JDC Entwine on a journey to the Balkans!
On Inside Jewish Bosnia and Croatia, you'll immerse yourself in global Jewish culture with a group of other Seattle-area young adults. During this trip, explore JDC's work in Bosnia and Croatia, visit Jewish communities, meet with community leaders, and tour this breathtaking region.
On this trip, you'll:
Learn the history of daring rescue missions for both Jewish and non-Jewish citizens during the Yugoslavian war in the early 1990s.
Meet the small but vibrant Jewish communities of Sarajevo and Zagreb and get an inside look at the programs and young leaders in JDC's Junction Europe Network.
Learn about the JDC-founded WHEP (Women Health Empowerment Program), which serves women's health needs in Bosnia & Herzegovina and has since become the independent organization, Think Pink.
See one of the world's oldest Sephardic illuminated haggadot - the Sarajevo Haggadah - and visit historic Jewish landmarks throughout Bosnia & Croatia.
Enjoy the landscape of the Balkans, from the cobblestoned streets of Zagreb to the pristine coastline of Split. Immerse yourself in the beauty of the Plitvice Lakes National Park and Sarajevo's Old Town.
Interviews will be conducted on a rolling basis upon receipt of your application. For more information, see the Entwine website.
Applications are closed.