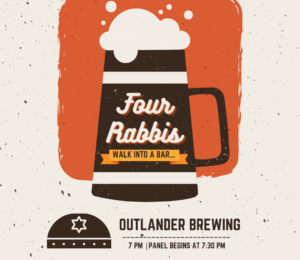 Thursday, October 14
7:00pm to 10:00pm
Outlander Brewery & Pub
225 N 36th St
Seattle WA 98103
So, four rabbis walk into a bar...
Are you looking for a synagogue? Denominationally curious? Just wondering what difference it makes if someone is Reform or Conservative? Join Jconnect and four area rabbis for a panel and Q&A about different minhag (traditions) and denominations in Judaism. Afterwards, we'll have time to schmooze!
This event is outdoors on the back patio space at Outlander. Food will be provided. Attendees are responsible for purchasing their own beverages. RSVP below!