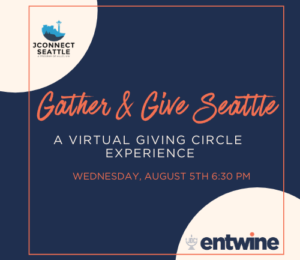 Wednesday, August 05
6:30pm to 8:00pm
While countries around the globe begin to reestablish routine, many remain on lockdown, with hundreds of new COVID-19 cases per day. However, JDC continues to address emerging needs in Jewish communities worldwide, which is why we as Jconnect are partnering with JDC Entwine on our first Seattle-based virtual giving circle experience, Gather & Give.
WHAT IS A GIVING CIRCLE? A giving circle is when members pool their charitable contributions and decide together where the pooled funds should go. Giving circles are a powerful tool for building community – for strengthening members' personal, professional, and philanthropic networks. Through their consensus-based decision-making, they model the importance of philanthropic partnership and collective impact, reinforcing the truism that no funder, no matter how large or influential, can solve social problems on their own.
Virtually join Jconnect and JDC Entwine as we embrace our Jewish values, learn about JDC's global response to COVID-19, and collectively allocate a meaningful gift in support of JDC's life-saving COVID relief work. Participants are asked to give a minimum suggested donation of $18, and those who can give more are encouraged to do so.
RSVP: https://zoom.us/meeting/register/tJIvd-mtrD8qGNzvqkaFoicTFCamKXjjUxdU
After registering, you will receive a confirmation email containing information about joining the meeting.