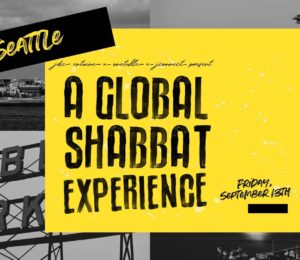 Friday, September 13
6:00pm to 9:30pm
Hillel UW
4745 17th Ave NE
Seattle WA 98105
Shabbat Shalom. שבת שלום. Svetigu Sabatu. Счастливой субботы.
Join Jconnect Seattle and the Stroum Jewish Community Center on September 13th for our JDC Entwine x OneTable's Global Shabbat Experience! See how Shabbat is celebrated in different corners of the world and how people weave their personal Shabbat rituals into this tradition. We will be utilizing Entwine's soon to be released Global Shabbat toolkit at each of the tables to bring this event to life. It will be an amazing way to connect with the larger Jewish community.
This event will feature an Argentinian menu in honor of our upcoming JDC Entwine trip to Argentina and Chile, including drinks and dessert. Everything will be kosher, and there will be vegetarian, gluten-free, and dairy-free options. This event is meant for young adults 21+.
Please register ASAP using the ticket link, and invite your friends as well!
https://dinners.onetable.org/events/f243b0d7-0bcc-4ea0-b4f6-4883b845922e
Have questions? Contact jconnectdirector@hilleluw.org.
This Global Shabbat dinner is co-hosted by the Stroum Jewish Community Center's SeaJAM Festival in celebration of their 50th anniversary of being on Mercer Island and 70 years of being in the Greater Seattle area.