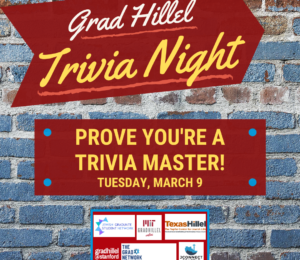 Tuesday, March 09
5:00pm to 6:30pm
Are you a trivia master? Join graduate students from across the country for a night of friendly competition, brought to you by a partnership of Grad Hillel orgs nationwide. Put together your own team, or let us assign one for you!
This event is open to all Hillel grad students and their friends. Registration here!
This month's categories are: TBD
BONUS QUESTION: What city has hosted the most final fours in March Madness?