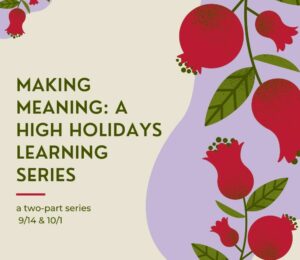 Wednesday, September 14
7:00pm to 9:00pm
Address provided to registrants
Looking to deepen your understanding of the prayers we say and the Torah portions we read on Rosh Hashanah and Yom Kippur? Join Jconnect for Making Meaning, a series about the traditions, Torah, and liturgy of the High Holidays. We'll study multiple texts in a variety of ways, including chevruta (paired text study) and small group discussion.
This class requires a minimum of 6 registrants to run.
Wednesday, 9/14, 7-9 PM - Rosh Hashanah: Torah study, or what was Abraham thinking?
Saturday 10/1, 5-7 PM - Yom Kippur: Transforming the Divine Decree (the Unetaneh Tokef prayer)
By registering, you're committing to attend all sessions. There is limited space available for this class on a first-come, first-served basis.
Classes will be held outdoors at private residences. Locations are in Wedgwood or the U District; exact addresses will be provided to registrants.