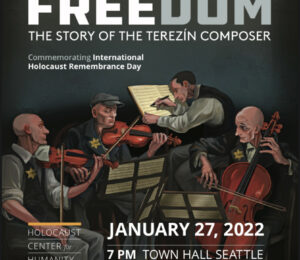 Thursday, January 27
7:00pm to 9:00pm
Contact: Holocaust Center for Humanity
Hours of Freedom: The Story of the Terezín Composer highlights music by composers who continued to write new music while imprisoned in the Theresienstadt (Terezín) Concentration Camp during World War II. Aware that their lives were fragile, and that deportations to the east were a constant reality, Hours of Freedom explores their need to create this new music as affirmation of a future. Program is one hour in length, followed by a talk-back with the performers and director.
The United Nations General Assembly designated January 27—the anniversary of the liberation of Auschwitz-Birkenau—as International Holocaust Remembrance Day. On this annual day of commemoration, the UN urges every member state to honor the six million Jewish victims of the Holocaust and millions of other victims of Nazism and to develop educational programs to help prevent future genocides.
This event is free. Learn more here.
Please note that this event is now ONLINE ONLY.
This is a Holocaust Center for Humanity event. Jconnect is a community partner.