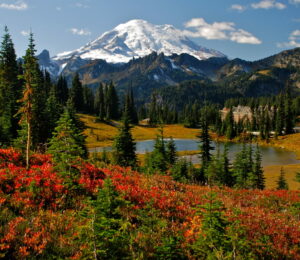 Sunday, October 24
8:00am to 3:00pm
Margaret's Way Trail Trailhead
190th Ave. SE
Issaquah WA 98027
Join Jconnect to hike the Margaret's Way Trail! This is a relatively easy hike, 6.5 miles round trip with an elevation gain of 1500 ft. over the course of the hike. It's great if you're just starting to experiment with being outdoorsy. Margaret's Way is a 3 mile forest ramble along wooded hillsides and near rushing creeks up to Debbie's View, a delightful lookout point with views of Mount Rainier and the surrounding foothills.
We will meet at the trailhead at 8 AM. Afterward, we will stop for a group lunch at a brewery in Issaquah on the way back to Seattle. If you can't stay for lunch, don't worry! You're still welcome to join us for the hike.
Please RSVP below to receive information about coordinating the hike.