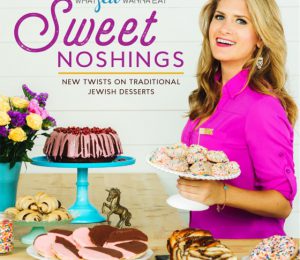 Tuesday, December 13
6:30pm to 8:30pm
Book Larder
4252 Fremont Ave N
Seattle WA 98103
Map it!
What Jew Wanna Eat: An Evening with Amy Kritzer 
Growing up, Amy Kritzer loved to cook traditional foods with her Bubbe Eleanor. Whether they were braiding challah or rolling out rugelach dough, there was always tons of laughter (and a messy kitchen.)
These days, inspired by Bubbe's best dishes, Amy puts her own modern twists on everyone's favorite classic Jewish recipes. She incorporates modern ingredients and techniques to make some of the most innovative Jewish creations ever! Her recipes have been featured in The Huffington Post, The Today Show Food Blog, Bon Appetit, and more. Jewish food is totally having its moment.
Join Jconnect, The Tribe, and Moishe House Seattle as we welcome Amy to town for a night of appetizers, drinks, and a cooking demo you won't wanna miss! Try Amy's delicious treats, enjoy a lot of laughs, and have Amy sign a copy of her new cookbook, Sweet Noshings, just in time for the holidays!
We can't wait to see you there!