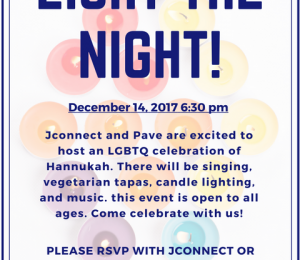 Thursday, December 14
7:00pm to 9:30pm
Hillel UW
4745 17th Ave NE
Seattle WA 98105
Jconnect and Pave are so excited to celebrate the Happy Festival of Lights with a festive LGBTQ Hanukkah Celebration! Please meet us at Hillel UW to gather together to celebrate this fun holiday!
We will gather together at 6:30 at the Hillel Building for delicious vegetarian tapas, sangria, and yummy latkes and doughnuts. We will all gather together for candle lighting, singing, and some lovely thoughts shared by Udi Asaraf and Rabbi Dana Benson.
Jconect and Pave are delighted to spend Hanukkah with the LGBTQ communities and it's allies! Please be sure to RSVP on Pave's website!