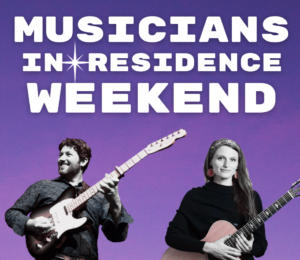 Friday, September 16 to Saturday, September 17
6:00pm to 11:30pm
Congregation Beth Shalom
6800 35th Ave NE
Seattl WA 98115
Contact: Congregation Beth Shalom & Jconnect
Join Jconnect and our partner organizations for a weekend of singing in community with artists in residence Joey Weisenberg and Rabbi Deborah Sacks Mintz.
Friday, September 16th
6:00 pm Kabbalat Shabbat and Maariv with Joey Weisenberg and Deborah Sacks Mintz
Enter Shabbat with musically and spiritually uplifting Friday evening davening.
7:30 pm Dinner (if you plan to attend the dinner, please register by noon on 9/9)
8:45 pm Rising Song Circle with Joey Weisenberg
Gather with Joey Weisenberg after Shabbat dinner to immerse in collective nigun (spiritual melody) and experience the power of sound and silence, and the Torah of music.
9:45 pm Community Late Night Singing
Saturday, September 17th
9:15 am Shabbat morning services with Deborah Sacks Mintz
Experience the grandeur and devotional beauty of Shabbat morning with song-filled Shacharit and Musaf services led by Deborah Sacks Mintz.
12:30 pm Lunch / Kiddush
1:15 pm Davening Artistry, Musical Joy: Joey Weisenberg & Deborah Sacks Mintz in Conversation
Equal parts text study, experiential song, and interactive conversation, Joey and Deborah will explore the intersection of artistic creativity and spiritual practice.
2:30 pm Community Afternoon Singing
8:30 pm Doors/Community Reception
9:00 pm Havdalah and Rising Song Selichot Concert with Joey Weisenberg, featuring Deborah Sacks Mintz and Chava Mirel
Soul-igniting melodies, ethereal harmonies, acoustic meditations, and communal invocations. Gather for a sonic journey of harrowing emotion and spiritual uplift, as Joey Weisenberg, joined by Deborah Sacks Mintz and Chava Mirel, presents a concert infused with original music and ancient prayer, combining signature elements of musical virtuosity and grassroots folksong.
11:00 pm Dessert
11:30 pm-12:15 am Selichot services
Space is limited. Register online at bit.ly/MIRreg starting 8/22/2022. Advance registration is now open for pillars and members of sponsor organizations.