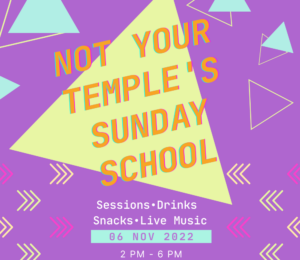 Sunday, November 06
1:00pm to 6:00pm
Hillel UW
4745 17th Ave NE
Seattle WA 98105
Join Jconnect for a Sunday afternoon that's nothing like you remember from Hebrew School! We'll have food, drinks, sessions on a wide variety of topics, and a live band for our happy hour. Come for one specific session or stay all afternoon.
The building will be open from 1 PM for an Eltana bagel bar and schmoozing. Sessions start at 2 PM, 3 PM, and 4 PM; a full schedule will be distributed to registrants. At 5 PM we'll have live klezmer music and a happy hour until 6 PM. Registrants will also get a swag bag full of fun surprises! You're encouraged to come wearing your best 90s Sunday School chic.
Session Schedule
2 PM
Psychology of Activism with Abby Brockman
Jews and Sex with Rabbi Lauren
Foundations of the American Jewish Political Perspective with Yuval Berenstein
3 PM
Illuminating Joy: A Creative Resilience Workshop with the Jewish Studio Project with Rabbi Laura Rumpf
Queerly Jewish and Jewishly Queer: Language and Practice at the Intersection with Grace Elizabeth Dy
Lilith's Children: Jewish Vampires and Zombies with Jeremy Wood
4 PM
Learning the Songs of the Sephardic Diaspora with Ke Guo
Learning, Conversation, and Connection with Matir Asurim, a Jewish Care Network for Incarcerated People
Jewish Mysticism with Rabbi Olivier BenHaim
The Kent State University Controversy and the Sacrifice of Isaac with Rabbi Samuel Klein
...Plus a happy hour with klezmer folk-punk band Brivele from 5-6 PM!
Feel free to join for the whole afternoon or stop in for one specific session.
Interested in leading your own session? Fill out this form and we'll get in touch.