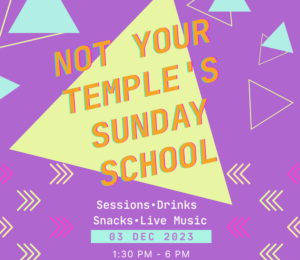 Sunday, December 03
1:30pm to 6:00pm
Hillel UW
4745 17th Ave NE
Seattle WA 98105
It's back! Sign up now for our nostalgic, sometimes-subversive twist on Hebrew School.
Join Jconnect for a Sunday afternoon that's nothing like you remember from Hebrew School! We'll have food, drinks, sessions on a wide variety of topics taught by fellow Jconnectors, and tons of fun. Sessions start at 1:30 PM, 2:45 PM, and 4 PM - come for the day or just one session!
Sessions include:
Sephardi Musical Influences
Mah Jongg for Beginners
A Brief Survey of Jewish Comedy
The Jewish Perspective(s) on Abortion
Exploring our Shared Values Through Art
Queering Judaism
Lilith's Children: Monsters in Torah and Jewish Myth
Letter-Writing to Incarcerated People with Matir Asurim
Plus snacks, social spaces, and a happy hour from 5-6 PM!
Check out the full schedule here. Looking for session descriptions? You can find those here.
Financial need should never be a barrier to participation in Jconnect events. Please reach out to ashley@hilleluw.org if you require a pay-what-you-can registration option.