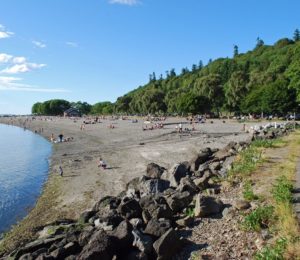 Sunday, January 31
10:00am to 12:00pm
Golden Gardens Park
8498 Seaview Pl NW
Seattle WA 98117
Join us at Golden Gardens Park to clean up trash along the beach. Not only is this a mitzvah, but it is a form of reverse tashlich - rather than casting away our sins, we are removing our sins from our environment. We will learn about the crisis of plastics in the ocean, the importance of the ocean to climate regulation, and Jewish values.
Coordinated by Emma Heaslet,  Tennessee transplant to Seattle and Jconnector, Emma's passion for waste reduction has extended into all parts of her life, from her work at Starbucks corporate to her everyday life.
Due to Covid-19 restrictions, space is limited.
Registration is required. Click here to register the via Climate Fest website. Please register below with Jconnect and then follow the link to register on the Festival website. You must register at the Festival website to get location/link details and be confirmed. Register by Thursday, 1/28 to reserve your spot.
This event is part of the Big Bold Jewish Climate Fest, of which Jconnect is a proud partner.