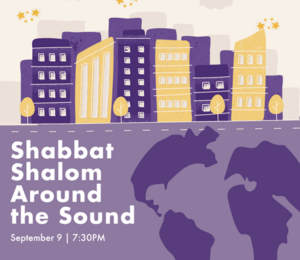 Friday, September 09
7:30pm to 10:30pm
Sign up for Shabbat dinner with fellow Jconnectors around Puget Sound, in partnership with OneTable. OneTable empowers young adults (21-39ish) to find, host, and share Shabbat dinners to make the most of their Friday night and enjoy the best of life together. Through this partnership, hosts can get nourishment funding to help subsidize your meal.
To sign up to host 5-8 Jconnectors for Shabbat dinner:
If you're not yet a OneTable host - no worries! Click here to fill out this 6-minute host application. You'll receive an email from our partners at OneTable, who will get you fast-tracked to host status.
If you're already a OneTable host - great! Please reach out to ashley@hilleluw.org for the promotional graphic. Feel free to post your dinner as soon as possible so that you can start getting the word out to your guests. As one of our Jconnect Shabbat hosts, we ask that you make sure to include the following line in your dinner description: This dinner is being hosted as part of a partnership between Jconnect and OneTable. By registering for this dinner you are agreeing to receive email communications from both organizations.
Once you have the link, please send it to ashley@hilleluw.org and it will be posted here.
If you're looking to attend as a guest, check out the links below to choose a dinner:
https://dinners.onetable.org/events/2fa5ab0b-beb7-48bb-8e1b-6821b6a30e71
If you have any questions about posting your dinner, be sure to reach out to OneTable's Community Ambassador, Hanna, at HannaK@OneTable.org. If you have any questions about the event itself, contact ashley@hilleluw.org.