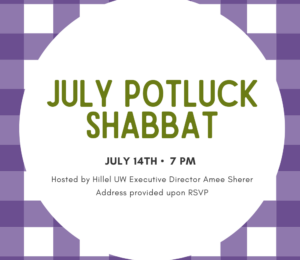 Friday, July 14
7:00pm to 9:00pm
Address provided upon RSVP
Join us for a potluck Shabbat dinner at Hillel UW Executive Director Amee Sherer's home!
Amee will be providing the main dish ~her husband's famous salmon~ and you will bring your choice of appetizer, side dish, salad, or dessert to share (enough for 8-10 people).  Sign up below to let Amee know what you will be bringing.
*Please note: The Sherer's home is kosher. Please make sure everything you bring is dairy and/or vegetarian. No meat products.
Amee will be in touch directly with those who register to provide her home address and more details.