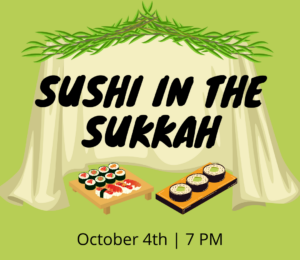 Wednesday, October 04
7:00pm to 9:00pm
Hillel UW
4745 17th Ave NE
Seattle WA 98105
Join Jconnect in the Hillel UW sukkah for sushi and schmoozing!
Sukkot is the holiday of gathering, and we're looking forward to gathering with you outside while the weather is still (at least sort of) nice and inviting. Jconnect will provide sushi, sides, and beverages. All you need to bring is you!
Vegetarian options will be available. All options will be kosher-style. If you require hechshered sushi, please indicate that on the RSVP form.
Please RSVP below. The cost for this event is $20.