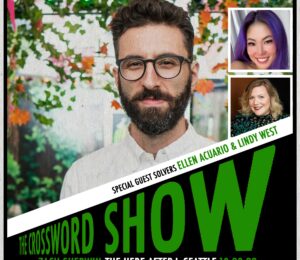 Thursday, October 20
7:00pm to 9:00pm
The Here-After (inside The Crocodile)
2505 1st Ave
Seattle WA 98121
Comedian Zach Sherwin (Crazy Ex-Girlfriend, Epic Rap Battles of History) hosts a panel of guests as they solve an actual crossword puzzle live onstage, with everything displayed on a big screen so the audience can follow along. Whenever the solvers decipher a clue, Zach takes the show down mind-blowing rabbit holes of comedy, music, wordplay, and trivia, all inspired by the answer words. You don't need any crossword expertise to be dazzled by this one-of-a-kind experience!
The Crossword Show comes to the Here-After in Seattle on Thursday, October 20th with guest solvers Lindy West (Shrill) and Ellen Acuario (Seattle-based stand-up with +500K TikTok followers). The show starts at 7:00 PM and lasts one hour and 45 minutes. Event info and tickets: https://www.ticketweb.com/event/the-crossword-show-w-zach-here-after-tickets/12392705.
Jconnectors can use discount code XWORD18 for 10% off the ticket price!
To learn more about the Crossword Show, please visit www.crosswordshow.com.