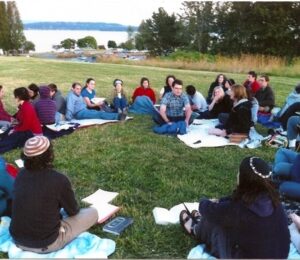 Wednesday, July 26
8:00pm to 9:30pm
Location will be distributed to registrants via email.
Tisha B'Av commemorates some of the saddest chapters in Jewish history, including the two times the Temple in Jerusalem was destroyed. As the sun sinks below the horizon and our commemoration of this holiday begins, we'll be meeting in a local park for a little learning and discussion, singing, and chanting the Book of Eicha [Lamentations].
You are encouraged to volunteer to chant - even just a line or two! If you are interested in chanting, or have any questions, please reach out to rabbijay@kavana.org.
This event is a partnership with the Kavana Cooperative.
Register here!