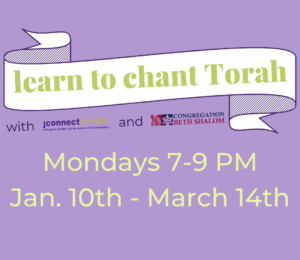 Monday, January 10 to Monday, March 14
7:00pm to 9:00pm
Want to learn to leyn (chant) from the Torah? Then this is the course for you! In addition to an overview of the Torah trop (cantillation) system, we will study the functions of the trop marks as punctuation and their role in accurate pronunciation.
To offer more context to our learning, we will have a chance to visit a synagogue to watch a Torah service. You will also learn a short Torah reading and practice chanting from the Torah scroll, culminating in a chance to read Torah during a synagogue Torah service at Congregation Beth Shalom.
Ability to read Hebrew phonetically is required, but you do not have to speak Hebrew to succeed in this class! By registering, you are committing to be available for all eight (8) class sessions. Due to COVID-19 and in order to increase accessibility, trop lessons will be held over Zoom, and the synagogue visit and Torah reading will be in-person following COVID protocols. This class is co-sponsored by Congregation Beth Shalom and taught by Shira Orzech.
This course is for individuals from 18 to their late 30s. The cost for this class is $80 for young adults, $20 for undergraduate or graduate students. However, cost should never be a barrier to entry - if the tuition fee is prohibitive, please reach out to Ashley. Students interested in registering should contact Ashley or Ellie (ellie@hilleluw.org) for payment options.
A full class calendar is available here. Please contact Ashley Pratt at ashley@hilleluw.org if you have any questions.
Please use the form below to register!