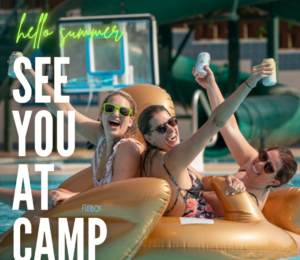 Saturday, September 17
9:00am to 10:00pm
Contact: Trybal Gatherings
Mark your calendar for Seattle Day Camp, taking place at Camp Kalsman. Join Jconnect and other young Jews from the area for an all-inclusive summer camp experience just for 20s/30s! Meet incredible new friends for a day packed with adventure and summer fun. Because life s'more fun at camp!
Get back to your roots at summer camp for adults
The Evergreen State lives up to its name from the moment you roll through the gates of Camp Kalsman. Spanning 300 forested acres situated between the Puget Sound and the Cascade Mountains, a sparkling lake, towering trees, and breathtaking views paint the perfect backdrop for a relaxing day at camp. Among the sprawling fields you'll find an odyssey ropes course with dual ziplines to soar through the trees. Practice your aim in the archery field, paddle your way through lily pads at the lake, or get crafty in the world-class art facility and culinary studio. The day is filled with dozens of electives, color war, gourmet s'mores under the stars, a silent disco, and so much more. This the perfect mini-escape to connect with new friends while disconnecting from the real world.