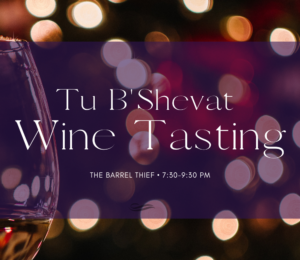 Saturday, February 04
7:30pm to 9:30pm
The Barrel Thief
3417 Evanston Ave N #102
Seattle WA 98103
Map it!
Join Jconnect for a Tu B'Shevat evening at The Barrel Thief!
A staff member will guide you through a wine tasting flight and all seven species will be represented on cheese boards for the group. Wear your best dressy casual attire to come learn a little bit about wine and make some new friends.
There are only twenty-five spots available - grab yours today!
Please note that all food served will be vegetarian but neither the food nor the wine is hechshered. Tickets are highly subsidized; the actual per person cost of this event is approximately $60.