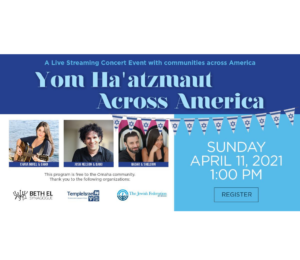 Sunday, April 11
11:00am to 12:00pm
Back by popular demand, Yom Ha'atzmaut Across America is back! Please join Hillel UW, Jconnect, and communities across North American to celebrate Israel's 73rd birthday in concert with special guests in support of some great causes.
This is a live virtual concert experience featuring some of the most recognizable names in Jewish music and leadership around the world. In addition to a joyous celebration of Israeli music, proceeds from Yom Ha'atzmaut Across America support Covid-19 relief.
Musical appearances from our own Chava Mirel & Band, Josh Nelson & Band, and Hadar & Sheldon Low
This concert is FREE for Jconnectors who register below.  Livestream link COMING SOON!
Check out the artists on social media!
Facebook: @SheldonLow, @HadarMusic, @JoshNelson, @ChavaMirelMusic, @Mazonusa
Instagram: @SheldonLow @hadarorshalimy, @josh_nelson_music, @Chavam, @mazonusa