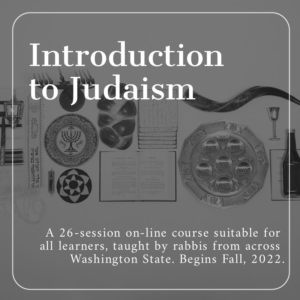 Oct 23, 2022 – May 14, 2023
7:00 – 8:30 pm via Zoom
This 26-session course is hosted by the Washington Coalition of Rabbis and will be taught by rabbis from across the state. Suitable for those seeking conversion or looking to deepen their knowledge of Judaism. Open to all!
This class is a survey of Jewish practices, ideas, and history. Taught by rabbis from across the state from a variety of backgrounds and work experiences, this class is suitable for all, from those exploring Judaism and possible conversion to those looking to add depth to their Jewish identity. A full schedule of the course can be found here. (May be subject to change.)
Tuition is on a sliding scale, $180-$540. Choose the ticket price that works for you. No one is turned away for financial reasons. Please be in contact if you need to make any other arrangements. Tuition includes all materials.