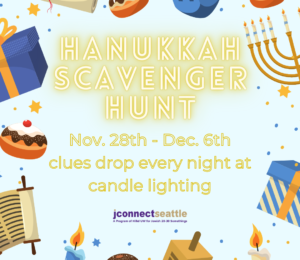 Sunday, November 28 to Monday, December 06
4:56pm to 4:54pm
Join Jconnect for an eight-night Hanukkah scavenger hunt!
Hanukkah- and Seattle-themed clues will drop every night at candle lighting. With your team of up to four people, use your phone to take photos of the answers. At the end of the scavenger hunt, submit your photos to win prizes! More information on prizes to come.
Register below - each team member should register individually. If you have questions, please reach out to Ashley at ashley@hilleluw.org.