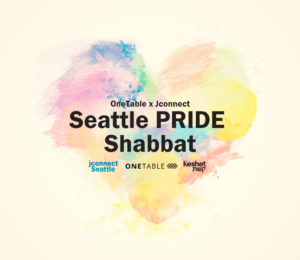 Friday, June 11
7:15pm to 8:30pm
OneTable x Jconnect | Seattle PRIDE Shabbat (featuring live music from Chava Mirel)
Calling all Seattle-area Jewish young adults! OneTable Seattle and Jconnect invite you to a special Shabbat evening, hosted with incredible support from our partners at Keshet*. You're invited to come together in community and celebrate PRIDE month! All are welcome at this virtual event.
Our evening will include a chance for all attendees to connect and self-reflect, live music from Chava Mirel and welcoming in Shabbat with blessings + ritual. Feel free to dress up in bright and/or rainbow patterned clothing - wear what makes you feel most comfortable in your own skin!
When registering for the event, you'll have the option to indicate if you'd like to pick up a Shabbag (automatically comes with the dinner pick-up option) from Jconnect, including everything you need for Shabbat, plus some sweet extras from OneTable (including a Shabbat ritual card, OneTable Seattle sticker and OneTable Friday challah cover).
And, for those who'd like, dinner is on us: upon registering for the event, you'll select the option to pick up a prepared Shabbat dinner from Jconnect at Hillel UW (details below), or receive a $20 GrubHub e-gift card from OneTable.
*Keshet works for the full equality of all LGBTQ Jews and their families in Jewish life. They strengthen Jewish communities. They equip Jewish organizations with the skills and knowledge to build LGBTQ-affirming communities; create spaces in which all queer Jewish youth feel seen and valued; and advance LGBTQ rights nationwide.
FREE Jconnect Shabbat Dinner and Shabbag Pick-Up Details:
Pick-up from Hillel UW (4745 17th Ave NE)
Pick-up times: Thursday, June 10, 6-8pm, Friday, June 11, 12-5pm
Register here to grab your FREE Shabbat dinner from Jconnect!
Questions? Contact Abbie Barash: abbie@onetable.org, or Nomi Mitchell: nomi@hilleluw.org