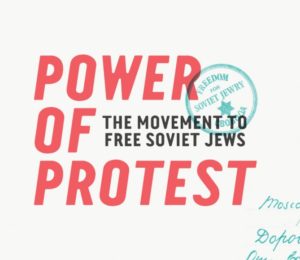 Tuesday, March 12 to Friday, April 26
12:00am to 12:00am
Hillel UW
4745 17th Ave NE
Seattle WA 98105
The Power of Protest: The Movement To Free Soviet Jews is a powerful exhibit from the National Museum of American Jewish History. The Washington State Jewish Historical Society is proud to have this exhibit as our first nationally touring exhibit.The WSJHS has created a companion exhibit "The Soviet Jewish Experience: Washington State Stories." This local exhibit highlights local efforts made to free Soviet Jews along with stories from some of those individuals who moved to Washington state from the Soviet Union.
The traveling exhibition Power of Protest, created by the National Museum of American Jewish History in Philadelphia, "showcases Americans' efforts in the late 1960s through 1990 to free refuseniks—Jews who lived in the Soviet Union and were denied the rights to live freely, practice Judaism, or leave the country due to their religion."
The exhibit is available to view now through April 26 during regular open hours at Hillel UW.
We will also be holding special viewings of the exhibit during Passover. Join members of the WSJHS Board for Passover lunch and see the exhibit on April 23rd, 24th, and 25th. Email the office for more information.