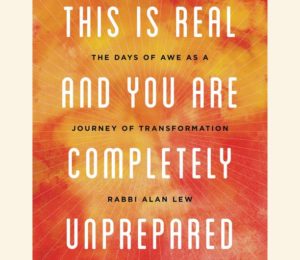 Tuesday, August 25 to Tuesday, September 08
7:30pm to 8:30pm
A three-part High Holiday prep and learning series with Rabbi Josh 
Join Rabbi Josh and Jconnectors as we journey towards the most real High Holidays of our lives, using the contemporary Jewish spiritual classic This Is Real And You Are Completely Unprepared, by Rabbi Alan Lew, as our guide.
This group will combine reading before sessions with group discussion of the book and close study of original texts from Torah and other classical Jewish sources related to the themes of each session. Throughout the series, we'll continually return to considering how the book and the sources inform our preparation for High Holidays in this particular year, when, more than ever, "this is real and (we) are completely unprepared!"
Appropriate for all levels -- all the traditional texts we study during the sessions will be offered in translation, and there's guaranteed to be something new in it for everyone! 
About the book and the author: Through lively prose and storytelling, Rabbi Lew, a graduate of the Iowa Writers Workshop and author of several works of non-fiction and poetry, paints the arc of the High Holiday season as a spiritual journey. Deeply embedded in both Jewish sources and mindfulness meditation - before rabbinical school he nearly became a Zen priest - Rabbi Lew describes the spiritual resources of Judaism in ways that are at once rooted in tradition and totally relevant to us as contemporary seekers. Many people read this new classic year after year and find new gems in it each time.
From past participants in this series with Rabbi Josh:
"The "This Is Real..." book club helped me get a head-start on preparing for the High Holidays. I appreciated the richness of our book club discussions, which primed me to more deeply appreciate the multiplicity of Jewish traditions and stories. Thanks to the book club, I had more breathing room with the transformative themes of the High Holidays." ~Rebecca Michelson
"Taking part in the "This is Real..." book group completely transformed my High Holiday experience last year, adding unexpected and much appreciated depth and context. Usually Rosh Hashanah takes me by surprise, spiritually speaking. Not last year. It wasn't just like I'd "seen the movie" of the High Holidays before, but read the book, knew the backstory of each character, and envisioned an interpretation of the story with myself in it." ~Anna Boiko-Weyrauch
You can order the book online and send us your receipt for up to $10 reimbursement towards the cost of the book.
Dates:
Tuesdays: August 25, September 1, & September 8
7:30-8:30 PM
Please read the introduction through the chapter 5 on Selichot for the first session. (If your book doesn't arrive in time for you to do this, don't worry! Come to the first session anyway and we will catch you up!)