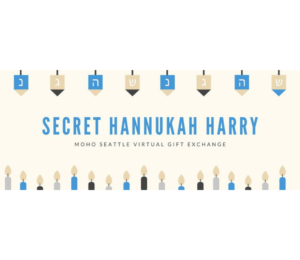 Monday, December 14
6:30pm to 7:30pm
Oy to the world! Moishe House Seattle is so excited to be holding a virtual Secret Hanukkah Harry gift exchange to celebrate our community during the challahdays. We are challenging you to find the goofiest, coolest, and/or Jewiest gift you can for $10 or under, and send it to your assigned community member. We will then gather during Hanukkah to open our gifts together!
-We will send your (secret) gift assignment out by Nov 29th
-Send your gift to your "giftee" to arrive by Dec 13th at the latest
-Our gift opening party is on Dec 14th!
Zoom link will be posted on the Moishe House Seattle Facebook page before the event. Or reach out to Moho Seattle directly for the link!
This event is in partnership between Moishe House Seattle and Jconnect Seattle.