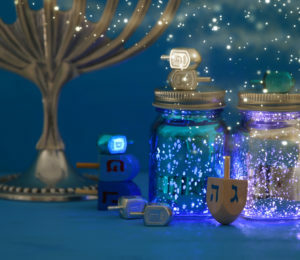 Friday, December 03
7:30pm to 9:30pm
Chanukah (or is it Hanukkah?) celebrates the heroic efforts of the Maccabees. On the 6th night of Hanukah (is that how to spell it?) we are providing three opportunities for you to be a hero: 1. An 8 round Chanukka competition with a prize awarded to the victorious Hanukkahh hero. Will that be you?  2. By raising money for Green Buildings Now. 3. A social justice book exchange. You are also welcome to join us for services at Temple before the event at 6pm. Let us know if you will be attending online or in-person and if you want to join for services. Extra points will be awarded for wearing a Chanukah sweater.
More details:
Competition: The competition will be in a "Minute-to Win-It" style- a series of eight short tasks. They will be quick, fun and do not require any particular skill set. You are invited to participate in-person or online. Just let us know on the RSVP.
Donation: We are choosing to support Green Buildings Now. It is a project that raises money to support building weatherization and installation of non-polluting heating, cooling and water heating appliances for the South Beacon Hill Resilience Hub pilot project. More information can be found here and you can donate on this page.
Bring a book, take a book! Do you have a social justice book that you are ready to pass along and share? Is there a social justice book that you have been longing to read? Then please participate in our Social Justice Book Swap during our annual Chanukah event. Everyone who brings a book will get to take one home but this activity is optional. Please make sure your book falls into the social justice genre- here are a few examples: Racial Justice, Climate Justice, Voting Rights, Gender Justice, etc.! Please email doniuyeno@gmail.com if you have any questions.
COVID safety: to attend in person you must be fully vaccinated against COVID-19, present proof and be free of symptoms. Masked are required at all times.
Please RSVP here.