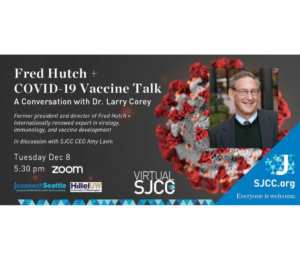 Tuesday, December 08
5:30pm to 6:30pm
Join Dr. Larry Corey and SJCC CEO Amy Lavin to learn how Dr. Corey's lab at Fred Hutch is playing a central role in the global search for a vaccine. As a global leader in virology, immunology, and vaccine development, Dr. Corey will shed light on the vaccine discovery process—a key to us all moving past COVID-19. Bring your questions!
The event is free, but registration is required.
sjcc.org/event/virtual-sjcc-fred-hutch-covid-19-vaccine-talk
Learn more about Dr. Larry Corey here.
This event is in partnership between SJCC, Jconnect Seattle, and Hillel UW.